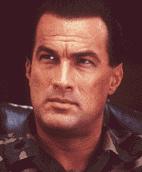 I don't think I have ever entered a writing contest in my entire life. But last week I found one that required about six minutes of effort on my part, and the prize was $50. I entered it and lost. But why should my six minutes of hard work go to waste.
So I submit to you, fellow Word Pirates and other interested parties, my losing entry.
The prompt was: Steven Seagal has announced that he will no longer make movies, and this devastates you. In 100 words or less, write your suicide note.
And I said …
Without facial expressions or vocal inflections, Steven Seagal managed to touch a part of me that I thought was untouchable. He spoke to my heart in the language of fists. The silencing of those fists brings the silencing of my heart.

If his films have taught me anything, it's that life is but a rigged cage match fought to win your kidnapped daughter's freedom from an evil gambling kingpin even though you retired from fighting after winning the world Taekwondo championship.

In heaven, an "Under Seige" sequel comes out every year. I'll see you there.

[signed]

PS – "Glimmer Man" Rules!
Winners can be seen (on the April 10 contest results) here